Welcome to Wiz Driving School, your dedicated partner on the road to becoming a skilled and confident driver. With a decade of expertise, Wiz Driving School is your trusted choice for the best and budget-friendly driving lessons in Rochdale, Manchester. Join us as we explore the keys to your driving success with our expert instructors.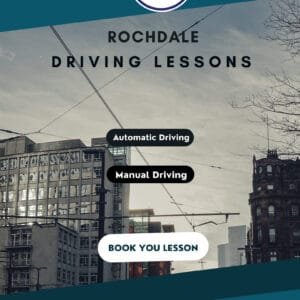 Tailored Excellence on Rochdale's Roads
Experience driving lessons tailored for Rochdale's unique roads. At Wiz Driving School, our expert instructors are well-versed in the local driving landscape, providing tailored guidance to navigate the challenges specific to Rochdale. Learn with confidence as we guide you through the intricacies of driving in this dynamic city.
Affordable Mastery in Driving Education
Embark on your journey to driving mastery without breaking the bank. Wiz Driving School is committed to offering budget-friendly packages without compromising on the quality of instruction. Our focus on affordability ensures that high-quality driving education is accessible to everyone in Rochdale. Join us and experience excellence at an unbeatable price.
Confidence and Competence Unleashed
Discover the Wiz Driving School difference – where confidence and competence go hand in hand. Our instructors go beyond the basics, focusing on building your skills to navigate Rochdale's diverse terrains. Whether you're cruising through the city center or tackling suburban roads, our training prepares you for every driving scenario. Enroll today and let Wiz Driving School be your partner in mastering the road.
Road-Test Preparedness
Navigating the Final Milestones with Wiz Driving School As you approach the culmination of your driving lessons, Wiz Driving School ensures meticulous preparation for the road test. Our comprehensive training focuses on honing the specific skills and knowledge needed to confidently pass your driving test in Rochdale. Enroll with us and get ready to conquer the final milestones on your journey to becoming a licensed and proficient driver.
Conclusion
Elevate your driving skills with Wiz Driving School, where tailored excellence meets affordability. Enroll today and embark on a journey to confident and skilled driving in Rochdale. Your success on the road begins with Wiz Driving School.