At Wiz Driving School, we recognize the significance of a comfortable and encouraging learning atmosphere. This post is dedicated to providing insights into our top-notch driving lessons with female instructors in Manchester. Our commitment to quality and affordability ensures that your journey towards becoming a skilled and confident driver begins here.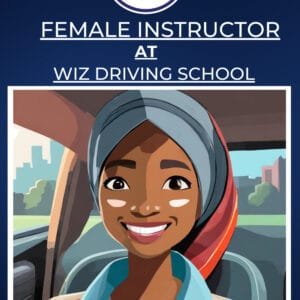 1. Personalized Learning with Our Expert Female Instructors
Our female driving instructors at Wiz Driving School are more than just instructors; they're mentors. We take pride in tailoring your driving lessons to your unique needs and learning pace. Whether you're a beginner or aiming to enhance your skills, our instructors create a personalized learning experience that puts you in control.
2. Affordable Driving Lessons without Compromising Excellence
Quality driving education should never break the bank. Wiz Driving School offers reasonably priced driving lessons that maintain a high standard. Our mission is to remove financial barriers and make top-tier driver education accessible to all.
3. Confidence-Building and Skill Enhancement
Our female driving instructors don't just prepare you for the driving test; they equip you with the confidence and skills to navigate the roads with assurance. We prioritize building strong foundational skills, teaching defensive driving techniques, and ensuring you are fully prepared to handle a variety of real-world driving situations.
4. Nurturing Safe and Responsible Drivers
At Wiz Driving School, our female instructors are dedicated to nurturing not only skilled drivers but responsible ones. We emphasize the importance of road safety, respect for other drivers, and the environment. With us, you'll not only pass your driving test but also become a responsible and ethical driver
Conclusion
At Wiz Driving School, our commitment goes beyond teaching people how to drive. We're here to empower you with skills, instill confidence, and ensure that you're not just another driver on the road, but a responsible and safe one. We understand that learning to drive is not just about passing a test; it's about becoming a conscientious member of the driving community. Join Wiz Driving School, and let us guide you to become the best driver you can be.